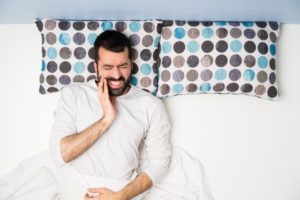 Everyone understands how important sleep is for their health, but what if a killer toothache is keeping you from getting that essential rest? You know to call your emergency dentist first thing in the morning so you can seek dental attention, but what should you do in the meantime? Continue reading to learn some tips for pain relief from your emergency dentist in Dallas so you can overcome a toothache at night to get some sleep.
Use OTC Pain Relievers
Pain medication you buy over the counter can be very effective when it comes to minimizing discomfort, including dental pain. Medicines like ibuprofen, acetaminophen, and aspirin can relieve minor pain from a toothache. Numbing pastes and gels, often containing benzocaine, can help to dull your pain long enough to fall asleep. Just remember not to use any products with benzocaine to treat children under age two.
Elevate Your Head
When you lay your head down, more blood flows to your head. This can intensify your toothache worse than it already is. To help prevent this, try to keep your head elevated as much as possible. Use a few extra pillows to prop up your head or try sleeping in a recliner.
Avoid Certain Foods Before Bed
Some foods can aggravate your toothache and make it more difficult for you to sleep. Stay away from foods that are particularly acidic, cold, or hard so that they don't trigger any further pain by irritating cavities or other dental issues.
Use a Cold Compress
Using a cold compress helps to constrict the blood vessels in the area and numb some of the pain that you are experiencing. Cold temperatures also help to reduce both inflammation and swelling which is especially helpful if your toothache was caused by an injury. Just wrap a bag of ice in a towel and place it on the affected area for about 20 minutes at a time.
Salt Water
Rinse your mouth with salt water. This will help to wash away any food particles that are stuck between the teeth. It is also a natural disinfectant, helps to reduce inflammation in the mouth, and aids in healing oral wounds. Mix half a teaspoon of salt into a glass of warm water.
Sleeping with a toothache at night in Dallas can seem impossible, but maybe the tips above can help. You'll be enjoying a restful evening before you know it!
About the Author
Dr. Sung-Hee Lee earned her dental doctorate from Baylor College of Dentistry. A Dallas resident for more than two decades, she's a member of the American Dental Association. If you ever face a dental emergency due to an intense toothache or another reason, Dr. Lee offers same-day emergency appointments and sedation dentistry is available for your comfort. Schedule an appointment on her website, but if it's an emergency, you should call (972) 481-8800.