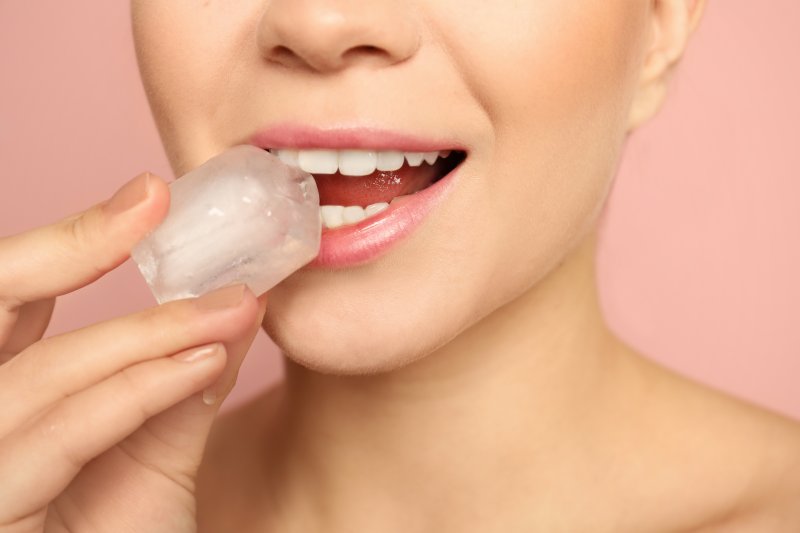 Whether it's to escape the heat or because you simply love the crunch, you may have unintentionally gotten into the habit of chewing on ice. Unfortunately, this is an unhealthy dental habit that can wreak serious havoc on your teeth and gums. Keep reading to learn about the dangers of chewing on ice and a few helpful tips to stop!
Why You Shouldn't Chew on Ice
"Pica" refers to a craving for chewing on items that have little to no nutritional value. If ice is your vice, then it's important to remember that all it takes is one wrong bite for your teeth to crack or chip, resulting in an urgent trip to your emergency dentist's office. Plus, breaking down ice requires extensive chewing power, which can leave your jaw muscles sore and your restorations vulnerable to damage. Therefore, it's best to kick the habit altogether.
Tips for Quitting the Ice-Chewing Habit
The first step in quitting the ice-chewing habit is scheduling an appointment with your doctor. After all, this habit has been linked to anemia (an iron deficiency). If this is the case for you, your doctor can treat the underlying issue, resolving your need to chew on ice. Next, try switching to a more mouth-friendly alternative. If it's the crunch you like, try chewing on a healthy snack like carrot chips and hummus. On the other hand, if you like how the cold cubes feel on your gums, opt for a sugar-free popsicle or ice-cold drink instead.
Why You Should Visit Your Dentist
Whether you recently picked up the habit of chewing on ice or have been doing so for years, it's important to schedule an appointment with your dentist. During this visit, they can conduct a thorough dental exam to ensure your teeth and gums are in good shape. If they are compromised in any way, like by a chip or infection, they can intervene with the appropriate restorative care. That way, you can enjoy a smile that is absolutely beautiful and fully functional!
About the Author
Although Dr. Sung-Hee Lee originally used her skill and passion for helping others as a nurse, she eventually decided to pursue the field of dentistry. She earned her Doctor of Dental Surgery from the Baylor College of Dentistry and has since completed numerous advanced training courses on everything from orthodontics to dental implants. Although she has more than a decade of experience, she continues to perfect her craft through active memberships with the American Dental Association and the Texas Dental Association. If you chronically chew on ice, are struggling with tooth pain, or have a chipped tooth, don't hesitate to visit her website or give her a call at 972-481-8800.