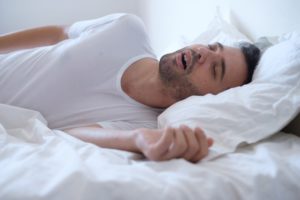 Everyone has had a stuffy nose before. Maybe you even have one right now. After all, seasonal allergies are booming at the moment. Having a stuffy nose often forces you to breathe through your mouth until you recover. This may seem harmless, but the reality is that mouth breathing can have negative effects on your dental health. Read on to learn how these problems develop and what you can do to prevent them from harming your smile.
The Dangers of Mouth Breathing
The main problem with breathing through your mouth is that it quickly reduces the amount of saliva you have. Saliva is actually your mouth's first line of defense against dental health issues. It rinses away food debris and bacteria, and it also neutralizes the acids they produce, making them less likely to damage your teeth.
One of the first signs of chronic mouth breathing is bad breath, which occurs when there is not enough saliva to minimize bacterial growth. That's not all, however – over time, mouth breathing can contribute to snoring, crooked teeth, and more frequent upper respiratory infections. Insufficient saliva production also increases your risk of cavities and gum disease. Not only can gum disease lead to tooth loss, but it may cause other health conditions like heart attack, stroke, and diabetes. That's why it's important to avoid breathing through your mouth when possible.
Tips for Preventing Mouth Breathing
Here are some ways to prevent mouth breathing and keep your smile healthy:
Treat your stuffy nose – Take any recommended allergy/cold medicine (depending on the cause of your congestion) or saline spray to clear out your nose so you can breathe through it.
Maintain a clean environment – Keeping your house and workspace tidy will reduce allergens that bring about congestion.
Install new air filters – Clogged air filters are less effective at preventing dust and other allergens from entering your home.
Change your sleeping position – If you sleep on your back, keep your head elevated to open your nasal passages and prevent mouth breathing.
How Your Dentist Can Help
The next time you visit your dentist for a routine checkup and cleaning, they'll be able to spot signs of mouth breathing, like puffy gums or dry mouth. If any issues are detected, your dentist can develop a treatment plan to prevent your oral health from worsening due to mouth breathing. They may coordinate with your primary care physician, especially if your dry mouth is the result of a medication you're taking.
In these situations, it's always important to be proactive about your dental health. By going in for a dental checkup, you can stop mouth breathing, dry mouth, and other potential health issues in their tracks.
About the Author
As a dentist in North Dallas, Dr. Sung-Hee Lee strives to create a warm and easygoing environment for all of her patients at Sunny Smile Dental. She has more than 12 years of experience in the field and keeps up with the latest technological advancements through her memberships in the American Dental Association and the Texas Dental Association. To learn more about keeping your smile safe from the dangers of mouth breathing, visit Dr. Lee's website or call (972) 481-8800.