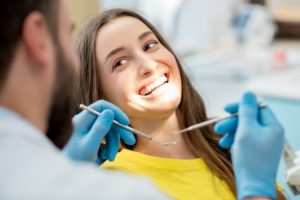 If your teeth look and feel fine, is it really necessary to visit your North Dallas dentist every six months? The truth is, those routine dental checkups are about so much more than spotting cavities and keeping your pearly whites clean. While those are certainly an added bonus, dental checkups can also boost your confidence, save you time and money, and even protect your general health. Here are four great reasons to keep up with your dental checkups.
You're More Likely to Keep All Your Teeth
Do your gums bleed when you floss or brush your teeth? While it may not seem like a big deal now, bleeding gums are often an early symptom of a bacterial infection called gum disease. If left untreated, the bacteria can become destructive enough to damage the jawbone and destroy the connective tissues that hold the teeth in place. In fact, gum disease is the leading cause of tooth loss in the US. Regularly seeing your dentist is the best way to keep your smile intact and prevent gum disease before it can develop.
You'll Look and Feel Your Best
Every at-home dental routine can use a boost from a professional cleaning, especially if any plaque has hardened into tartar. This tough, yellowish substance can easily discolor your teeth and make you feel self-conscious about smiling. What's more, the bacteria it contains can lead to chronic bad breath! Since tartar can only be removed by your dentist, you'll leave your dental appointment feeling more refreshed and confident than if you had simply brushed your teeth at home.
You Can Protect Your Heart and Your Health
A growing body of research indicates that over 100 systemic diseases can be detected by looking at your mouth. That means your dentist can diagnose conditions like diabetes, dementia, and osteoporosis before you can see or feel them. Additionally, studies indicate that staying healthy with regular dental checkups can save you money and protect your heart! Experts found that participants who got routine dental care had lower healthcare cost burdens and reduced their risk of heart disease by a third.
You May Get the Upper Hand on Cancer
Health experts are expecting oral cancer to kill nearly 10,000 people next year. The Oral Cancer Foundation reports that this number isn't because oral cancer is difficult to spot, but because it's often not diagnosed early enough. That's why a key part of every dental checkup is the oral cancer screening. With advanced technology and years of training, your dentist will carefully inspect your mouth, throat, face, and neck for any abnormalities that you might not have noticed yet. Identifying oral cancer in its earliest stages is key to treating it successfully, which is an excellent reason to keep up with your dental checkups every six months.
Remember, your beautiful smile isn't the only part of you that benefits from regular dental checkups. Visiting your North Dallas cosmetic dentist twice a year is great for your whole body!
About the Author
The friendly and experienced team of Sunny Smile Dental in Dallas, TX is dedicated to providing their patients with personalized care in a truly modern environment. Dr. Sung-Hee Lee firmly believes that great oral health is a solid foundation for overall wellbeing, which is why she encourages her patients to get their dental checkups twice a year. Using a combination of state-of-the-art technology and her background in nursing, she would be happy to keep you and your smile happy and healthy for years to come! If you have any questions, feel free to contact her at her website or at (972) 481-8800.